Driving Safety in Northern TerritoryThis website is made for the clients specially of the travel agencies Goholi and Australia 4 Wheel drive Rentals and their websites including www.australia4wheeldriverentals.com and http://www.australia4tours.com/.
Expect the unexpected! Driving in country and remote areas of the Northern Territory is very different from city driving. The Northern Territory is large and it may take hours or even days to get from one town to the next. For this reason it is very important to plan your trip and know how far it is to the next town. Tell someone of your planned journey, including estimated time of arrival. It is important to plan your travel. Enjoy your visit to the Territory - don't become a statistic!
Safety Information
Telephone
Life threatening emergency
000
NRMA - Road side service
13 1111
Medical - Jabiru Health Clinic
(08) 8979 2018
Poisons Information Centre
13 1126
Park Headquarters
(08) 8938 1100
• (during business hours)
Ranger Stations
Telephone
South Alligator ranger station
• (near the Kakadu Resort)
(08) 8979 0194
East Alligator ranger station
• (near the Border Store)
(08) 8979 2291
Jim Jim ranger station
• (near the Yellow Water turn-off)
(08) 8979 2038
Mary River ranger station
• (6km north of the Wirnwirnmila Mary River Roadhouse)
(08) 8975 4578

Emergency call devices
Emergency call devices are to be used in emergencies only. Follow the instructions located on the devices.

Emergency call devices can be found at:
• West Alligator Head
• Jim Jim Falls
• Twin Falls
• Graveside Gorge
• Maguk
• Gunlom
• Koolpin

Courtesy of http://www.environment.gov.au/ ©
Area Status Updated
Additional Information and Area Status Updated at https://parksaustralia.gov.au/kakadu/ © Area covered by the report are:
Arnhem Highway, Kakadu Highway, Old Darwin Road, East Alligator District
Ubirr Art Site, Magela Creek, Cahills Crossing, Merl Campground, Manngarre Walk, Bardedjilidji Sandstone, Sandstone & River Walk.Nourlangie District
Nourlangie Rock, Nanguluwur Art, Nawurlandja Lookout, Anbangbang Billabong, Gubara, Sandy Billabong, Muirella Park Campground, Bubba Walk, Illigadjarr Walk, Burdulba Campground, Malabanjbandju Caravan Area, Malabanjbandju Tent Area, Sandstone Barrk Walk.South Alligator District
Mamukala, Gungarre Walk, West Alligator Head, Red Lily Billabong, Alligator Billabong, 2 Mile Hole Billabong, 4 Mile Hole Billabong .Jim Jim District
Jim Jim Billabong Campground, Yellow Water Road, Yellow Water Boardwalk, Home Billabong Walk, Jim Jim Falls, Garnamarr Campground, Jim Jim Day Use Area, Twin Falls Gorge, Twin Falls Escarpment Walk, Mardugal Campground 1 & 2, Mardugal Billabong Walk, Gun-gardun Walk, Maguk, Graveside Gorge.Mary River District
Kambolgie Campground, Yurmikmik Walks, Gunlom Campground, Koolpin Gorge, Guratba/Gimbat Day Use, Rock Holes, Bukbukluk Lookout, Gungurul Campground, Gungural Lookout & River Walk, Gunlom Road.https://parksaustralia.gov.au/kakadu/ ©

A printable map of Kakadu National Park © - courtesy of www.kakadu.com.au
Road and access reports Road conditions in Kakadu National Park vary according to the season. During the wet season there is widespread flooding, so you should inquire about road conditions before you depart. Road conditions and walking track access in the Park are monitored daily. The latest information about road and walking track conditions, openings and closures is available from the Bowali Visitor Centre, phone (08) 8938 1121, or you can download the latest report from our road report. Vehicle weight restrictions
Vehicles over 6000 kg Gross Vehicle Mass are NOT permitted on the following roads and tracks at any time of year:
• Jim Jim Falls / Twin Falls Road
• Road to Maguk (Barramundi Gorge)
• Road to Graveside Gorge
• Road to Jarrangbarnmi (Koolpin) Gorge
• Road to Rockhole
• West Alligator Head • Road (2 Mile Hole and 4 Mile Hole)
• Gubara Road
Rob's notes: My car hit a flood zone in 1989 and was swept sideways on the Arhem Highway in February. Luckily it was a mercedes and heavy enough to withstand the full force of the flood wave. An hour earlier I went down the road and there was nothing. I always suggest to our clients (many are friends) a few additional tips apart from the offical advice.
• The golden rule - make sure everyione in the car has the their seatbelt, baby seats, booster seat properly adjusted and fasten before the key turns in the ignition.
• Seriously - don't drive at dusk, dawn or night.
• Don't talk on a phone whilst driving -
• Both hands on the wheel to correct vehicle action in an emergancy.
• Don't drink whilst driving.
• If there is a passenger please have them also talk to you a bit to keep your mind alert and active and keep a second pair of eye's alert around you and on the road.
• Roadtrains are big and long - by careful when you see one.
• Especially watch the rail crossing going into Batchelor
• Especially watch the heavy trucks entering on the Arhem Highway around and past the Bark Hut Inn area and at the Compass entry in Batchelor see www.litchfieldnationalpark.com
• Water crossings - especially at Twin Falls quiet a few hire cars have been in difficulty at this crossing.
• Always be alert as often it's the oncoming vehicle that may have difficulties which will affect your travel path.I.E. I have seen tourists in a hire vehicle swerve only 100m in fornt of us onto our lane so as to miss Kitty Hawks on the Arhem Higway during a burnoff in Sept 9th, 2009.
• In the Northern Territory you name it we have it cows, wild horses, wallabies, kanagroos, 1000's of camles, large eagles on the road and much much more.
• Especially if there is one driver please stop and get out and stretch your legs often (carefully)
• Drink the required amount of water always.
• Tourists not used to the sun and roads have told me quiet often to warn others of the flickering of light thru the branches and trees - it can be rather hypnotic at times.
• We have very long straight streches of road on the Stuart Highway, Kakadu Highway and Arhem Highway that are NOT to be treated as a speedway. 4WD and large motorhomes are not meant to be pushed but to be enjoyed.
• Rollovers - Please note there are stretches of road where severe weather has worn the edge of were the sealed road meets the dirt/gravel side of the road. The drop here can be as much as 3 inches or 7cm app. If both wheels get caught on this it will hinder your driving. Drive slow and keep to the sealed section and please concentrate carefully with both hands on the wheel. Road's NT do try their best to maintain the roads.
| | | |
| --- | --- | --- |
| | Safe Driving In Australia | |
Map of Kakadu National Park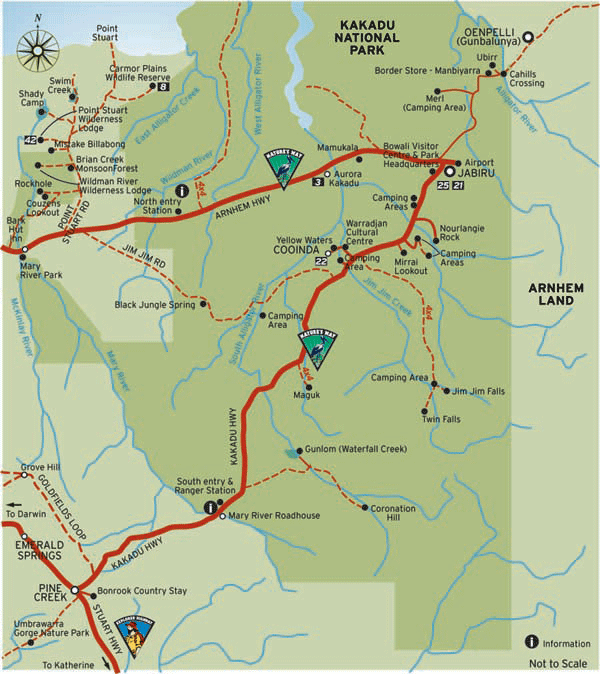 Warnings - External link https://www.parksaustralia.gov.au/kakadu/index.html
Please note sometimes the main link from the government database is replaced if so here is the start of the Parks section and please subsearch for crocoidle warngs etc https://www.parksaustralia.gov.au/kakadu/index.html +Parks & Wildlife Commission of the Northern TerritoryHead Office - Goyder Centre 25 Chung Wah Tce Palmerston, NT 0830
PO Box 496 Palmerston NT 0831
Ph: +61 (0) 8 8999 5511 Information courtesy of http://www.tourismnt.com.au/

Kakadu National Park - Seasons
But Australia's Kakadu sees seasons of varied extremes -- so varied, in fact, that the park's longtime aboriginal inhabitants have divided the year into six distinct seasons.
• Kakadu Seasons - Gunumeleng Pre-Monsoon Storm Season - Gunumeleng, from mid-October to late December, may in fact last from a few weeks to several months.
• Kakadu Seasons - Gudjewg - Monsoon Season - Gudjewg, from January to March, can be described as the 'true' wet season.
• Kakadu Seasons - Banggereng - Knock 'em down storm Season - Banggerreng, in April, is the season when the rain clouds have dispersed and clear skies prevail.
• Kakadu Seasons - Yegge - Cooler but still humid Season - Yegge, from May to mid-June, is relatively cool with low humidity.
• Kakadu Seasons - Wurrgeng - Cold Weather Season - Wurrgeng, from mid-June to mid-August, is the 'cold weather' time; humidity is low, daytime temperatures are around 30°C and night-time temperatures are around 17°C.
• Kakadu Seasons - Gurrung - Hot Dry Weather - Gurrung, from mid-August to mid-October, is hot and dry.

4WD Cars & 4WD Campers
2WD Campers & Motorhomes
No Hidden Costs
• Take your adventure OFF-ROAD!
• The ultimate camping experience
• 4WD Campervans also available
• Great holidays at affordable prices
• Spacious and feature rich!
• Perfect getaway for families & couples
• All applicable fees and charges included
• Detailed price breakdown
• Know what you're paying for!
Click here for manual old fashion customized quote


Example of a 4wd camper hire


Click here email us your enquiry if your not sure


If you don't wish a instant quote and wish a manual customised one then:
Please include this in your request for availability and quote.

Full Name

Country of residence

Main Driver/Hirer Licence issued from which country

Number of those travelling

Ages of drivers

Ages of children under 12 (child seat guidelines)

Telphone No. + country code

Exact start and Finish date and such as Darwin to Broome

Route such as Gibb River Road
Adds by Australia 4 Wheel Drive Rentals
Australia 4 Tours

Tours, Safaris, Personal Charters being upmarket camping, basic camping and accommodated ranges to Kakadu National Park from Darwin and return. Adventure Tours Australia also offer oneway tours to and from Kakadu to other states.

www.kakadunationalparkaustralia.com is part of the specialist for selfdrive leisure vehicle rentals and tour specialist including camping and accommodated one day or extended tours and safaris from the group of Goholi groop being an experienced respected licensed Travel Agent in Darwin, Northern Terriotry Australia (Tel +61 (0) 8 7999 7511). Why come to us - Let us try to get you a discount off the recommended rates with professional and experienced service. www.kakadunationalparkaustralia.com is an 'Affiliate' of the Australia 4 Wheel Drive Rentals group of sites. A licensed Australian Travel Agent based in Northern Territory Australia.
Goholi Pty Ltd
Postal: GPO Box 380, Darwin, NT 0801
Email: info@australia4wdrentals.com

www.kakadunationalaprkaustralia.com has affliation with the following links
• http://www.australia4tours.com
• http://www.kakadu-tours.com
• http://www.australia4wheeldriverentals.com
• http://www.australia4wdrentals.com
•Home • Contact Us • Site Disclaimer • Weather Reports • Currency Conversion • General Links • Site Map
Australian Tour Information - Mission Statement
Please note some of these links are supplied only as a link for information our company has no affliation some of these links. Important; This site is for the beneift of those researching for their next vacation to Kakadu National Park in Northern Territory Australia also know as the 'Top End'.
Australian Kakadu National Park travel guide and information is not the offical site - the offical government site is http://www.kakadu.com.au. This search site offering links to Kakadu, Litchfield, Uluru, Darwin and Northern Territory accommodations, tours, safaris, activities, nature parks, nature reserves and adventure activities.
Australia 4 Tours

Tours, Safaris, Personal Charters being upmarket camping, basic camping and accommodated ranges to Kakadu National Park from Darwin and return. Adventure Tours Australia also offer oneway tours to and from Kakadu to other states.