Aboriginal the Traditional Owners in Kakadu National Park
The Aboriginal traditional owners to Kakadu National Park The area boasts the longest continuous surviving human culture in the world. Aborigines have been living in this region for at least 40,000 years. The descendants of these First Australians still live in Kakadu today.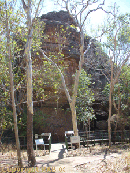 Two of the main focal points for seeing the Aboriginal Culture of Rock Art at a closeup look is at Ubirr Rock left off the Arnhem Highway before Jabriu and Nourlangie Rock on the Kakadu Highway on the way to Cooinda Resort in the southern End of the park. Two other areas to learn about Aboriginal culture is at Warradjan Cultural Centre near Cooinda Resort. Also at Kakadu Culture Park next to Muirella Park Campground in Kakadu National Park in a conventional 2 wheel drive vehicle, RV, camper, motorhome or coach. It's a sealed road and only 20 minutes from the hotel (International standard) accommodation at Jabiru (North) or Cooinda (South).
The area boasts the longest continuous surviving human culture in the world. Aborigines have been living in this region for at least 40,000 years. The descendants of these First Australians still live in Kakadu today. The Kakadu National Park staff always welcome you and on behalf of the Aboriginal traditional owners to Kakadu National Park and hope you will enjoy learning about culture, land and caring for country. Kakadu Park is a true cultural landscape. It was shaped by the spiritual ancestors of Aboriginal people during the Creation Time. The ancestors (first people) journeyed across the country creating landforms, plants, animals and Bininj/Mungguy* (Aboriginal people). They came with their laws to live by: ceremonies, languages, kinship's and ecological knowledge. They taught Bininj/ Mungguy how to live with the land and look after the country.
Kakadu and the Arnhem Land Escarpment contain one of the longest continuous records of rock art in the world, with around 5,000 recorded and identified galleries of Aboriginal paintings. Kakadu contains an uniqueartistical living cultural landscape of Aboriginal art. Ubirr and Nourlangie Rock are two of the most pristine public sites that feature Aboriginal Cultural Rock Art and previous dwelling shelters.
Approximately 50% of the land in the park is Aboriginal land under the Aboriginal Land Rights (Northern Territory) Act 1976, and most of the remaining area of land is under claim by Aboriginal people. Title to Aboriginal land in the park is held by Aboriginal land trusts.

Kakadu National Park - Seasons
But Australia's Kakadu sees seasons of varied extremes -- so varied, in fact, that the park's longtime aboriginal inhabitants have divided the year into six distinct seasons.
• Kakadu Seasons - Gunumeleng Pre-Monsoon Storm Season - Gunumeleng, from mid-October to late December, may in fact last from a few weeks to several months.
• Kakadu Seasons - Gudjewg - Monsoon Season - Gudjewg, from January to March, can be described as the 'true' wet season.
• Kakadu Seasons - Banggereng - Knock 'em down storm Season - Banggerreng, in April, is the season when the rain clouds have dispersed and clear skies prevail.
• Kakadu Seasons - Yegge - Cooler but still humid Season - Yegge, from May to mid-June, is relatively cool with low humidity.
• Kakadu Seasons - Wurrgeng - Cold Weather Season - Wurrgeng, from mid-June to mid-August, is the 'cold weather' time; humidity is low, daytime temperatures are around 30°C and night-time temperatures are around 17°C.
• Kakadu Seasons - Gurrung - Hot Dry Weather - Gurrung, from mid-August to mid-October, is hot and dry.

4WD Cars & 4WD Campers
2WD Campers & Motorhomes
No Hidden Costs
• Take your adventure OFF-ROAD!
• The ultimate camping experience
• 4WD Campervans also available
• Great holidays at affordable prices
• Spacious and feature rich!
• Perfect getaway for families & couples
• All applicable fees and charges included
• Detailed price breakdown
• Know what you're paying for!
Click here for manual old fashion customized quote


Example of a 4wd camper hire


Click here email us your enquiry if your not sure


If you don't wish a instant quote and wish a manual customised one then:
Please include this in your request for availability and quote.

Full Name

Country of residence

Main Driver/Hirer Licence issued from which country

Number of those travelling

Ages of drivers

Ages of children under 12 (child seat guidelines)

Telphone No. + country code

Exact start and Finish date and such as Darwin to Broome

Route such as Gibb River Road
Adds by Australia 4 Wheel Drive Rentals
Australia 4 Tours

Tours, Safaris, Personal Charters being upmarket camping, basic camping and accommodated ranges to Kakadu National Park from Darwin and return. Adventure Tours Australia also offer oneway tours to and from Kakadu to other states.

www.kakadunationalparkaustralia.com is part of the specialist for selfdrive leisure vehicle rentals and tour specialist including camping and accommodated one day or extended tours and safaris from the group of Goholi groop being an experienced respected licensed Travel Agent in Darwin, Northern Terriotry Australia (Tel +61 (0) 8 7999 7511). Why come to us - Let us try to get you a discount off the recommended rates with professional and experienced service. www.kakadunationalparkaustralia.com is an 'Affiliate' of the Australia 4 Wheel Drive Rentals group of sites. A licensed Australian Travel Agent based in Northern Territory Australia.
Goholi Pty Ltd
Postal: GPO Box 380, Darwin, NT 0801
Email: info@australia4wdrentals.com

www.kakadunationalaprkaustralia.com has affliation with the following links
• http://www.australia4tours.com
• http://www.kakadu-tours.com
• http://www.australia4wheeldriverentals.com
• http://www.australia4wdrentals.com
•Home • Contact Us • Site Disclaimer • Weather Reports • Currency Conversion • General Links • Site Map
Australian Tour Information - Mission Statement
Please note some of these links are supplied only as a link for information our company has no affliation some of these links. Important; This site is for the beneift of those researching for their next vacation to Kakadu National Park in Northern Territory Australia also know as the 'Top End'.
Australian Kakadu National Park travel guide and information is not the offical site - the offical government site is http://www.kakadu.com.au. This search site offering links to Kakadu, Litchfield, Uluru, Darwin and Northern Territory accommodations, tours, safaris, activities, nature parks, nature reserves and adventure activities.